Back Support Belts – Benefits & Types Of Supports
Guarding the back using support belts or braces is a good idea for those who have a muscle strain, joint sprain or some other types of injuries or recovery after surgery. If you have back pain and need to keep working or maintain a certain level of activity, back support belts are a great help. Back belts are commonplace in most jobs where heavy lifting is required. We often see people wearing them at work, just because it is recommended, without using any force applied.
We do not recommend using them for show. Support belts are ubiquitous; they come in many styles and designs and range from very cheap ones to high tech belts that are very effective.
When back support belts are designed well, they deliver support that helps prevent and relieve back pain resulting from muscle strain, spasms, sprains and disc problems. For some, this can mean better recovery or be a lifeline to those who need to keep going when your back pain normally prevents daily or work activities.
By constraining action involving muscle groups and suspensory ligaments, back support belts additionally assist in improving good posture as well as serving to prompt one to make use of safe lifting technique.
Elastic Belts
Elastic back support belts are for mild to moderate pain levels and lifting tasks. There are so many types of these braces. How do you know what you can count on to be effective. Many are cumbersome, made of cheap materials and can be either just a cheap wrapping that does nothing or will provide support by sacrificing comfort. While no brace is completely comfortable to wear for long periods, elastic belts are affordable and effective.
Back Belts Using Mechanical Advantage
These braces are made of extraordinarily strong, yet breathable materials that are non-stretch, yet pliable for better compression without giving up comfort. The non-bulky, very low-profile design provides discrete wearability. Comfort and control add up for quicker healing. These belts Maximize a smooth, dynamic approach to abdominal compression, providing stability and control of the spine. Adjusting the belt takes about 1 second, with minimal motion or unwanted body movement. An easy, effortless pull with one hand effectively tightens the belt and you're ready to go! A 6:1 pull ratio makes them powerful and stable supports.
The mechanical back support belts are used for moderate to severe levels of pain. Those who do heavy lifting at periods throughout the day will benefit from a strong belt. While comfortable to wear for long periods, it is best to use during heavy lifting tasks, or mild lifting task when in a lot of pain. If you have a choice, don't lift when you are in pain. If you must, this is the belt to use. The belts comes with back and front panels which really enhance stability and maximize compression. These are best to manage inflammation due to the higher compression levels.
Employing this advantage, the Back Brace is a favorite regarding cost and effectiveness. It is a basic member of the family of belts using mechanical advantage for stability and ease of use. It employs a distinctive fastening mechanism as well as supporting system. This is the one I use. It provides superior stabilization and durability and I highly recommend it.
For those familiar with Modic 1 degeneration of the spine and antibiotic therapy, a 2013 article in the German medical journal Deutsches Ärzteblatt International indicates lumbar supports are effective for low grade spinal infections. They recommend 6 – 10 weeks wearing a highly supportive brace in combination with antibiotic therapy. While most cases of spondylodiscitis is treated surgically and aggressively, this recommendation is for cases that can be treated conservatively, where there is no high grade destruction of the spinal bone.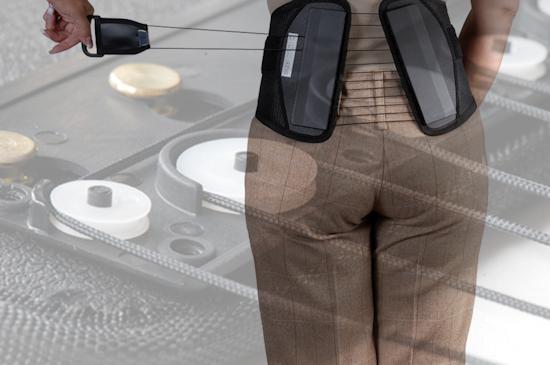 For those who suffer back pain from P. acnes infection who are undergoing therapy with antibiotics, as well as related mechanical Modic degeneration, spinal loading like heavy lifting should be avoided. Wearing a strong, supportive braces with mechanical advantage is highly recommended, should any lifting or stressful activity be necessary.
Benefits Of Wearing Support Belts
The advantages effect components of back pain, like restriction of motion to help confine the disc, joints and muscles. Bending forward may increase disc pressure, while bending back may irritate facet joints. Conditions involving both of these structures can result in back pain with pain radiating into the lower limb. Increasing abdominal pressure without strain, as the bracing helps to minimize disc compression and allows daily and work activities with less force on sensitive structures. Support belts can also effect posture control with an educative outcome from maintaining the spinal column within normal limits. Helping to stabilize the spine can create better posture, with mechanical belts actually restricting postures that can harm the spine.
During the acute stage of an injury, rest and ice/cold applications are usually recommended for the first few days depending on the extent of injury. The goal is to reduce inflammation and further damage. Using a support offers the impaired tissues the ability to recover without having additional damage. Compression helps with managing and also minimizing inflammation. As your condition progresses, belts can help manage initial stages of activity through healing with greater levels of motion and warmth for increased circulation.
Braces are often used with chronic pain, especially overuse injuries where the tissues do not receive sufficient rest periods for healing and are frequently re-injured. Optimum stabilization using a mechanical or elastic support can help under situations where rest and restorative therapy are either insufficient or not possible. Stability is a feature which supplies added support to weakened tissues. For instance, a lower back muscle strain can lead to weakness of the suspensory ligaments which support the spine and pelvis. Appropriate back support belts which have a higher amount of ergonomic force can help the weakened ligaments capability to stabilize.
The primary principle of back support belts is stabilization of joints, however, muscle receptors are also stimulated. The materials ensure controlled compression with panel inserts and massage provided by pads that are integrated into the support helps with inflammation. There can be multiple functions in using a support; relief, stabilization, immobilization, mobilization, and correction. The back can be immobilized and may be mobilized with motion in a controlled manner. It is possible to use them to for posture correction as well.
Scientific Evidence For Using Back Braces
Do Back Support Belts Cause Muscle Weakness?
There are many health care professionals who may indicate that back braces cause muscle weakness and therefore should not be worn. However, the literature does not support this opinion.
The authors found the belt produced a reduction of abdominal amplitude levels from the stabilization which elevated intra-abdominal pressure thus enhancing spinal stability. This offered well coordinated action of the trunk muscles to improve stability. The belt, with its movement restricting effect, activates the paravertebral musculature. The results indicate the effect of elastic belts is a temporary neutral alteration of trunk muscle coordination and not uniform deconditioning.
They noted a significant improvement of functional impairment in acute back pain by wearing the elastic lumbar support belt. Interestingly, the belt use displayed reduced pain and activity related effect of use during walking, where the spine is better stabilized.
Doctor's Note On Back Support Belts
Experience indicates that patients tend feel more stable and safer during physical activity when wearing belts. Self reported surveys do indicate that in those with lower back pain, wearing a belt permits continuation of activities with less discomfort. Good supports can help patients take control of their condition and foster responsibility and self-awareness.
I do not like wearing back support belts continuously all day at work if you do not experience back problems. Most workers will just wear them loosely where they can interfere with activities. Wearing them compressed all day without problems may lead to problems by altering biomechanics. The problem can come when the braces are not used. One of the techniques I use myself when using the mechanical advantage belt, is to slowly release the pressure. It is simple enough with the pulley system to release the pressure for a few minutes, then repeat a few times before removing.
Determining if a particular support is appropriate and if you have the capacity to benefit from it's functionality to the fullest is multifactoral; your particular condition, fitness level, activity level, and a complete examination by health care professional(s) are crucial.
The effect is to influence a positive bending moment within the frontal axis, and this causes a reduction of the lumbar lordosis or curve. This result is a decrease in pressure on back part of the disc, while increase in the front. This can have a therapeutic effect in decompressing anatomical structures in order to reduce strain and pain. Thus, the intended effect is a higher bending moment with resultant lower pressure.
As indicated in a 2021 Journal of Biomechanical Engineeringcompression can result in damage to disc endplates, nucleus pulposus, and the outer annulus fibrosus, which can lead to disc degeneration. Belts should be used with any disc injury that requires any type of lifting and other sources of compression as well as poor posture to decrease compressive forces.
The belt design, materials, adherence, spinal condition and body shape all play a role in the mechanical effects. The reduction of the back curve depends on BMI and for patients who are obese and have an exaggerated curve or hyperlordosis, a belt can increase the lordosis angle and be counterproductive. Having a strong mechanism and size variations can help minimize this effect and should be taken into consideration. In other words, the higher the BMI, the more a typical belt either does nothing or does harm.
In healthy weight patients, the therapeutic forces of pressure are from front to back, having a maximum pressure on the front.Whereas higher BMI patients have the pressure spread around the trunk, compressing mainly fat tissues.
In addition to a strong compression method and sizing variation, the adhesion of the belt greatly influences the pressure. Slippage not only minimizes compression, but allows an asymmetrical application that reduces correct pressure application. Therefore, avoid slippery materials and make sure that the belt is applied evenly. This means for one sided pull braces, the method of closure and tightening should be done carefully to maximize symmetrical application. Failure to do so may result in almost two and a half times more pressure on one side compared to the other. This may be extrapolated to accommodate antalgic or scoliotic postures.
Other factors like belt material in relation to skin pressure and condition, and things like humidity play a role as well. Finding a reasonable balance can lead to better selection and application of back support belts.