Pinched Nerve Home Treatment Regimen
If you have ever had a pinched nerve in your back or neck, you understand how painful and debilitating it can be. If you can you learn very quickly how to perform a pinched nerve home treatment. Understand that a typical pinched nerve is damaged by compression or pressure from a disc herniation or osteoarthritis and is unable to function properly.
Since a pinched nerve can produce a lot of inflammation, initially, your doctor should prescribe medication for pain and inflammation. As the inflammation subsides, the pain will decrease. For high levels of inflammation, steroid medications may be prescribed to quickly reduce inflammation. With your medications in place and any serious complications ruled out, treatment for a pinched nerve at home can begin.
Supports
Make sure to get plenty of rest and extra sleep as it will go a long way towards the beginning of the healing. With a pinched nerve in the neck, supportive neck collars can help provide some comfort as well as helping to restrict motions that can further pinch the nerve. Initially, it may be helpful to sleep using a soft collar, however, good designed cervical pillows providing comfort and support may be used, with or without a collar to help get a better nights sleep.
For those who sleep on their side, having a pinched nerve in the neck can cause problems known as cervical radiculopathy. The pinching of a nerve can cause your head to lean to one side. This helps alleviate pressure. Therefore, when side sleeping, you can place a towel under one side of the pillow to raise it allowing this position to be maintained while sleeping on the side as an extra measure for a pinched nerve home treatment while sleeping. Adjustable pillows like the neck pain pillow or the adjustable memory foam pillow can help with this.
Functional pillows are a good idea to reduce strain in back or side sleeping. They can also help prevent unwanted head tilt when back sleeping. For side sleeping, the edges are raised to make room for the shoulder, which necessitates a higher loft to keep the neck from kinking to either side.
For the lower back, lumbar support belts can provide relief of pain, often seen with sciatica, allowing motion and preventing strain, thereby, helping to reduce inflammation.
While getting rest initially is important, if you do not have much help, you may need to do some minor chores and a strong belt can help prevent further injury to the pinched nerve. A softer supporting back belt can help provide better comfort and offer a minor level of support throughout the day. Using body pillows when sleeping or resting can help reduce stress on a pinched nerve at home. A pillow between the legs can help prevent torsion on the lower back.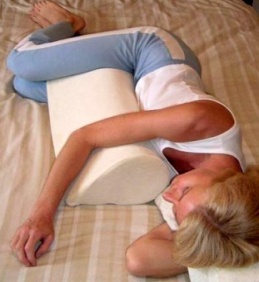 Additional Strategies For Pinched Nerve Home Treatment
Using ice to reduce inflammation and pain. Very cold ice may be uncomfortable and can increase muscle spasm, so it should be reasonably comfortable. Because cold therapy is recommended during the initial stages of inflammation, one must weigh the benefits and rewards between temperature. If you are sensitive to cold or feel it is causing increased muscle spam, keep the temperature to a degree that is comfortable and apply for longer periods. One way to get the benefits of ice is to use an ice treatment for 10 to 15 minutes followed by heat for 10 to 15 minutes. This alternating of ice and heat can help reduce the swelling and increase circulation.
As the pain and swelling subside, heat therapy for the neck or back can be used and there are a number of effective ways to provide heat that are designed for the neck and back. You can also take a hot bath to relax the muscles of the lower back and a hot shower for the neck that can take the tension off of the area. Much of the pain can be coming from knotted up muscles that are very tight to immobilize the area, and a heat therapy does wonders to relax the area.
For persistent problems, traction can be effective to relieve pressure and may be an important tool for home treatment. There are special neck traction devices as well as back traction units that can help remove the pressure from a pinched nerve in the lumbar spine and reduce muscle spasm as well. Traction can also help increase circulation. Some find it effective to use traction products which also act as a neck or back brace, combining the best of both methods to help home treatment for a pinched nerve.
Getting a massage can help, both a general whole body massage to relax generally, and a gentle massage in the neck or back area. Emphasize the word gentle and forget a deep tissue massage as this could worsen the pinched nerve situation. Relaxation is the key here, so the injury can heal.
If you do not have contra-indications, take a non steroid anti inflammatory drug such as ibuprofen which will reduce swelling and pain. Drink plenty of pure water to get rid of toxins that build up and as you continue to heal, take some walks and you can begin doing exercises for the neck as well as back exercises and stretches.
The body is an amazing self-healing mechanism, and performing some pinched nerve home treatment methods can help it along in a big way.
Note: A 2011 study in the journal PLoS One indicates a chronic pinched nerve may not cause hypersensitivity to touch, however, there can be thermal hyperalgesia which is altered perception to heat or cold, meaning heightened sensitivity which may include feeling applications as painful that are normally felt as just cool or warm. So this should be kept in mind when applying these methods.