Pillo-Pedic Pillow – Line Of Chiropractic Pillows
The pillo-pedic pillow starts with an adaptable, four-way branded style and design that provides the right therapeutic support edge for every individual, irrespective of sizing, your age, as well as body shape. Each and every pillow-pedic pillow provides a small and large support edge along with a gentle plus medium firm center, so you will have 4 neck and head support selections in a single pillow. Virtually all pillows deliver therapeutic traction and also support regarding the cervical spine. The pillows offer you a wide range of firmness options, and many are available in 3 measurements:

– Junior for children and small-framed adults (under 110 pounds)

– Standard for average adults

– Extra for large-framed adults (over 180 pounds)
A popular foam and fiber combination neck support pillow.
The Pillo-Pedic Pillow are chiropractic recommended neck pillows suggested for neck problems by health care professionals. The Pillo-Pedic Pillow permits a mild traction force to the neck during rest or sleeping, which helps with promotion of proper posture of the neck with optimal neck and head support.
Pillo-Pedic employs a unique 4 way construction with a therapeutic foam edge combined with a fiber center, giving it superior support and comfort. Use for both side sleepers and back sleepers, the Pillo-Pedic will permit waking with a great night's rest and having more energy. This pillow additionally assists in whiplash recovery, neck injuries, neck as well as shoulder pain and can help with neck related related headaches.
Pillo-Pedic pillows offer gentle neck traction while you sleep, helping promote correct neck posture and maintain neck support. Pillo-Pedic's patented four-way design includes a specially constructed edge, for added neck support, and is designed for both side or back sleeping positions
The Pillo-Pedic Plus is a more firm variation of the standard Pillo-Pedic Pillow. It makes use of Posture-foam "Egg Crate" design that assists in alleviating pressure points as well as increasing air flow for the neck and head. The Pillo-Pedic Plus helps to minimize soreness resulting from a pinched nerve, arm and shoulder pain/numbness and helps maintain a correct cervical curve. Using a flexible, 4 way design, which offers a suitable supportive edge for everyone, no matter your body type, age or size.
Every pillow employs a narrow as well as wider supporting edge along with a soft and medium center, therefore, 4 neck support variations are available in 1 pillow. A great feature of all these pillows is the benefit of a mild therapeutic traction in the back sleeping position as well as optimal support for the neck. The Pillo-Pedic Plus supplies firm, yet comfortable support in both the back and side sleeping positions.

This is the travel version of the pillo-pedic. Small enough to go anywhere, yet large enough to give you the neck support you need. Maintain support and comfort on the road or anywhere life takes you.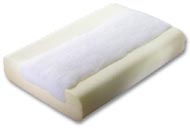 This is the Ultra design using memory foam support edges that will provide a therapeutic benefit by adapting to the neck, offering gentle, yet corrective support.
This helps to minimize the break in period, making it easier to adapt to your new pillow and providing an additional measure of comfort. Utilizes the same base of therapeutic foam, however, the neck support edges are improved with temperature sensitive and shape conforming memory foam.
Good for sprain/strain injuries like whiplash, inflammation from arthritis as well as headaches.
The Escape Pillow has special side panels designed to support side sleeping.
Special Therapeutic Z-z-zone center section for proper neck extension while back sleeping. Separate sections for back and side sleeping for more painful neck conditions requiring a special pillow
With the addition of memory foam we get a softer pillow with an adaptable therapeutic edge which continuously conforms to your head and neck for gentle, corrective support. This virtually eliminates break-in time and gives our foam pillow a superior feel.
The PilloPedic provides relief from neck pain by positioning the head in a more comfortable position and providing a mild traction on the neck. The pillow features a narrow and wide edge and a soft and medium center, so you have four support options in one pillow to suit different sizes, ages, or body types all in one easy to use, lightweight pillow.
This pillow was developed to help provide therapeutic neck support during rest, and to help adjustments "hold" longer. Provides an extension of treatment never before possible. It's really four pillows in one. If you are a small-framed individual who needs firm support, the Narrow Edge/Medium Center combination may fill your needs. Large-framed individuals who require a softer support will enjoy the Wide Edge/ Soft Center combination. A few minutes of experimentation will determine the combination most beneficial use of the pillow pedic to your needs.
Recommended for patients with neck pain by Chiropractors Nationwide. Provides gentle traction while you sleep, helping promote correct neck alignment and maintain cervical spine support. The patented four-way design includes a specially constructed memory foam edge, for added support, and a flat profile which helps eliminate pillow "roll away". Designed for both side or back sleeping positions, the pillow pedic helps you WAKE WELL RESTED AND REFRESHED after a great night's sleep! Also helps to relieve whiplash neck injury, neck and shoulder discomfort and tension headaches.
The PilloPedic has a gentle traction feature that works while you sleep to help provide correct neck alignment and head support. Full sized bed pillow, and its durable construction features non-allergenic polyurethane and polyester fiber – not foam rubber, for the longest lasting pillow available. Soft & Comfortable! The four-way design means the Pillow Pedic has an edge that's just right for you!
Due to its unique design and the personal nature of the pillow pedic benefits, there may be a period of adaptation of 1-2 nights or more. Once you and your pillow have adjusted to each other, you will begin to fully enjoy its comfort and therapeutic benefits.
Good for whiplash and tension headaches.
Junior: For children and small framed adults (L) 23 x (W) 15-1/2 x (H) 2.87 and 3-3/4
Regular: For average sized adults (L) 23 x (W) 15-1/2 x (H) 4-1/4
Ultra: For average sized adults (L) 23 x (W) 15-1/2 x (H) 4-1/4
Extra: For large framed adults who are over 180 lbs. (L) 23 x (W) 15-1/2 x (H) 5
Mini Traveler: Half the size of the Regular pillow. (L) 13 x (W) 15-1/2 x (H) 4-1/4
Junior Traveler: For children and small-framed adults. (L) 13 x (W) 15-1/2 x (H) 2.87 and 3.75
Plus Junior: For children and small framed adults (L) 23 x (W) 15-1/2 x (H) 2-1/2 and 4
Plus Regular: For average sized adults (L) 23 x (W) 15-1/2 x (H) 4-1/2
Plus Extra: For larger framed adults over 180-pounds (L) 23 x (W) 15-1/2 x (H) 5-1/4
Petite Escape: For children and small framed adults (L) 23 x (W) 15-1/2 x (H) 3.25
Standard Escape: For average sized adults (L) 23 x (W) 15-1/2 x (H) 4
Grande Escape: For larger framed adults over 180-pounds (L) 23 x (W) 15-1/2 x (H) 4.75