Core Basic Water Pillow Offers An Orthopedic Edge Not Found In Other Water Based Pillows
This Core Basic Water Pillow provides the comforting support associated with a restorative water pillow and includes a great orthopedic shaped middle to enhance relaxation as well as neck support. The orthopedic center is for displacement of the water and quiets the noise of water movements as well as supports the head inside a much more comfortable and all-natural posture. As opposed to alternative water pillows without having displacement orthopedic shaped centers, the Core Basic does not protrude unnecessarily or trigger unwanted forces on the neck.
The Core Basic Water Pillow is suggested for any individual recovering from injuries or just focused on preserving neck and back wellness. Water reacts immediately whenever switching from the face-up back sleeping posture to a side sleep posture, thus allows for a much more peaceful sleeping. Just increase or decrease the amount of water from detachable water holding chamber to attain preferred firmness level and comfort.
Cotton pillow cover lies over a luxurious fiber filling, which is cooling and delicate upon skin. Use it without or with the water holding chamber to help reduce head aches and also heavy snoring. Yes, it can be filled with air instead of water for a lighter pillow that still reacts to your changing positions. It can also be used without the water holding chamber for a very light and cool night' sleep.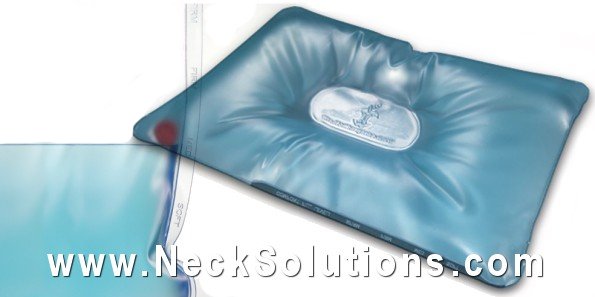 This Pillow is designed using a natural cotton enclosing the restorative water holding chamber. The water holding chamber is actually easily removed with regard to mess-free water filling, and the helpful guide allows you to select the suitable water level with regard to the level of firmness or softness preferred.
Versatile and also completely modifiable, the Water Pillow will certainly suit just about any individual plus works for a variety of neck support requirements, from an individual recovering from a recent injury to a healthy person who wants to remain this way.
If you like the fiber based tri-core pillow, this is that version in a water pillow. Like the chiroflow, it has advantages in that the firmness level can be controlled and there is less transitioning difficulties from changing positions with a separate section sleeping or functional pillow. The disadvantages are that you do have to fill it with water, although it is surprisingly comfortable and lightweight when using air instead of water. The Core makes it a bit easier to adjust for proper ergonomic cervical spine support.
Core Basic Water Pillow Details
Provides soft, comfortable characteristics of water with reduced noise
Natural cotton fiber packed covering envelopes the healing water comfort chamber
Displacement orthopedic cradle quiets water noise and also will make pillow totally changeable regarding customized support
Add or take away water to modify firmness level
Adjustable support will fit every individual properly and also reacts to transforming positions
Restores all-natural curve of the neck
Provides sleep ease and comfort as well as beneficial health
Can help reduce neck discomfort as well as snoring loudly
Comfort Holding chamber can also be filled with air
Fits typical size pillow case
A 2017 study in the Journal of Sports Medicine & Physical Fitness indicated the use of an appropriate pillow is a determining factor in relieving neck pain, and promoting deeper stages during the sleep. The shape of the pillow should maintain an appropriate cervical curvature, which reduces intra-disc pressure allowing a better distribution of loads.