The Water Filled Pillow Responds To Changing Positions Automatically Supporting The Head And Neck
Pillow firmness is often a matter of personal preference, so with this water filled pillow, it may be adjusted to a level of support that is most comfortable for you and provides the best relief for waking with a stiff neck. With options to increase comfort level using fiber, gel foam or down, you will be hard pressed to find a more comfortable and effective neck pillow.
Buy A Water Pillow With Security & Privacy 24/7 – 365 Days A Year
FREE SHIPPING for Continental U.S.A. Only | Outside U.S.A. Orders - Read Shipping Policy

All Customers: Read Shipping and Return Policies Prior To Placing Any Order!
The Water Filled pillow properly adapts to your particular shape and size. It measures 20" x 28" (Queen Size)
Clinically tested at John Hopkins Hospital and Logan Chiropractic College, the chiropractic water pillow has a pouch secured to the pillow base and a durable thermal insulator which surrounds the water to prevent heat loss.
A cushion of soft, hypo-allergenic fiber rests over the water layer with a gel foam insert option for amazing comfort.
Providing stable support for neck and head, the Water Pillow automatically adapts to changing sleeping positions and the firmness can be personalized to your comfort level by adjusting the amount of water you fill in the pillow.
The Water Pillow Comes In 2 Versions
1) Fiber: Cushioned and hypoallergenic polyester fiber in the basic version has been providing comfort for years. This is the water pillow the scientific study used, so it has proven benefits even in its most basic form. Add the custom cover for even more cushioning and comfort, as well as protection and washability.
2) Gel Memory Foam: It is cooler and softer than standard memory foam. The cooling gel provides an extra soft top layer and is ventilated which permits air circulation all the way through. The layer undeneath the gel foam is firmer than the top, but has special conoluted foam springs for better reaction and support.
How Does A Chiropractic Water Pillow Work?
The water filled pillow naturally conforms to continuously offer the neck and head support in side and back sleeping positions. Your neck and head float over a secure base of water for alleviating sore neck muscles and headaches, and offering a better quality of sleep. As you sleep on your back, the water filled pillow surrounds the head and neck with soothing comfort. When changing to side sleeping, the water pillow adjusts it's support to keep the best neck and head posture.
Is A Water Filled Pillow Good For Neck Pain?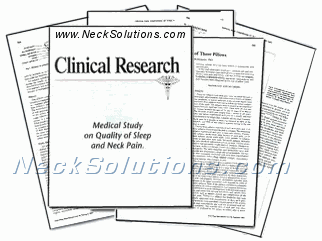 Research provides evidence that the chiropractic water pillow showed highly relevant benefits regarding sleep quality, relief of pain and reduced waking with a stiff neck as compared with other pillows used in the studies. Adequate neck and head support during sleep was thought to carry over for improved neck function during the day.
It was further noted that the water filled pillow instantly adjusted to changes in neck and head positions. The comforting fill compresses from the weight of the neck and head, which absorbs the weight and transmits it to the beneficial support of the water pouch beneath. The water pouch instantly distributes this weight for a reactive, comforting and supporting feel, regardless of sleeping position and no matter how many times you change positions. The weight of the pillow keeps it in place so you won't wake up with the pillow positioned at an angle and your neck hurting.
Custom Luxury Pillow Cover & Protector
The Quilted Pillow Case can keep the pillow clean, fresh and longerlasting. This great pillowcase will provide even more comfort as well as increasing the pillow life. It uses 100 percent cotton covering for the entire pillow. It measures 22" by 28" and is easily washable.
How To Fill A Water Pillow
| | |
| --- | --- |
| Click Image To Enlarge | Filling The Water Pillow |
| | The Dual Purpose Tool functions as a wrench and a funnel. Align slot and cap and insert base of tool in the valve cap and use tool to unscrew the valve cap. Turn tool counter-clockwise and remove cap. Insert tool into valve cap, tighten and use as a funnel. Fill pouch with measured amount of water. Soft (2 qt) | Medium (3 qt) | Firm (4-5 qt). It is suggested tou use 3 quarts and the add or remove to achieve a softer or firmer chiropractic water pillow. Remove funnel, but do not place valve cap on yet. Proceed to remove air from the water pouch. |
| | |
| --- | --- |
| Click Image To Enlarge | How To Remove Air From Pillow |
| | Now there is both water and air in the pouch of the chiropractic water pillow. Gently push fingers down pillow and find top of water level. Gently flatten pouch in a sweeping motion to remove air pocket. Continuing to apply light pressure to the top of the water pouch - replace valve cap. This is an important process to prevent water from sloshing around in the chiropractic water pillow. If you hear the water moving around in the pillow, repeat these steps to remove the air and your pillow will be quiet and supportive. |
The water layer is fully encased in a pouch acting as a temperature insulating device which prevents loss of heat from the shoulders, neck and head, so the chiropractic water pillow stay warm and comfortable.
The water can be left in the chiropractic water pillow for up to one year after which it should be changed. Many people like to wash their pillows which is a good time to change the water as the pillow should be empty before being washed.
Will A Water Pillow Leak?
The water filled pillow is incredibly strong. Although the outer layers of the pillow are extremely soft, the inner layers are extremely tough and durable and confidence in the water filled pillow is backed up by a two year warranty covering manufacturing defects.
Improves sleeping quality and alleviates waking neck pain. It conforms instantly for a customized fit.
Need more neck support? See our water pillow with additional neck support option.
If you need assistance regarding the chiropractic water pillow, please contact Neck Solutions.