Travel Neck Pillows Provide Support & Comfort Anywhere Life Takes You
Our most popular travel neck pillows with a supporting u-shape design, ventilated specifically for extra support for the cervical spine. The vents form ergonomic areas that offer added neck support without increasing firmness, and while also supplying better air circulation. Memory foam that very soft, yet supportive and options to provide lasting freshness with bamboo charcoal, a more plush and cooling feel with gel infusion, and natural aromatherapy options like lavender, peppermint and chamomile.
Buy Our Unique & Inviting Travel Pillows Online With Security & Privacy 24/7 – 365 Days A Year
FREE SHIPPING for Continental U.S.A. Only | Outside U.S.A. Orders - Read Shipping Policy

All Customers: Read Shipping and Return Policies Prior To Placing Any Order!
All the travel neck pillows are 11″ by 12″ with a thickness of 4″. The standard, bamboo and charcoal infused pillows come with a removable, very soft, velour bamboo cover. The aromatherapy ones come with a mesh Tencel cover that is a botanical fabric which is a soft, silky, breathable fabric that is great at wicking moisture and controlling temperature. It promotes air flow and aromatherapy scent release.
Standard Memory Foam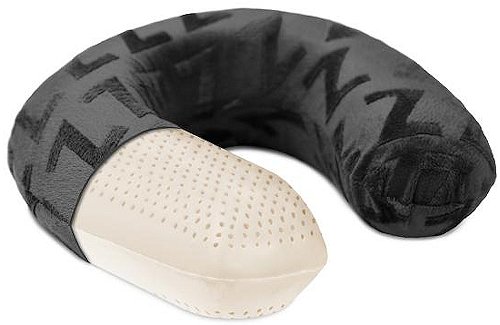 You will enjoy the comfort and support of the U shape pillow at home or when traveling. The standard memory foam is soft, allows air to flow and remains cool, yet supportive. The comfortable density allows for superior properties in conforming to your unique shapes and curves. We call the special memory foam in all the travel neck pillows "Dough". Easily compresses for compact travel anywhere. Use in your favorite lounge chair, on airplanes, cars, buses and more. The special venting extends through the pillow, providing ventilation and more comforting support as the U shape wraps comfortably around the neck, eliminating points of pressure to ease pain and stiff muscles. A supportive, ergonomically designed travel pillow in a horse-shoe shape to cradle the head, neck & shoulders.
Bamboo Charcoal Infused Memory Foam
This is the travel pillow infused with bamboo charcoal to help with humidity regulation, eliminate odors and control temperature extremes. Traveling can be hectic and take you through different environments. Now your neck can stay fresh, clean and comfortable using natural infused bamboo charcoal to compliment the benefits of the soothing memory foam, soft bamboo cover and ergonomic design. Ergonomically enhanced ventilation, temperature, humidity and odor control is great for planes, trains and vehicles for long lasting, clean comfort.
Soft Gel Memory Foam
The gel produces a cooler and softer memory foam with superior pressure point relieving properties. Combined with the soft and breathable bamboo cover, it is the most plush and comforting of the neck pillows. This pillow retains the vented cervical support system and ergonomic design for keeping your neck aligned and the muscles at ease. Great as a travel or lounging pillow for those with sensitive necks.
Aromatherapy with essential oils are ancient remedies that have made a modern comeback. Natural fragrances infused in a u-shaped pillow with great comfort and neck support. Very unique and makes a great gift idea. Aroma is mild and not overwhelming.
Chamomile Infused Memory Foam
Roman Chamomile has a sweet, calming scent known for it's ability to promote relaxation. A plush and pressure easing memory foam infused with chamomile for a natural, cozy relaxation experience. Roman chamomile is known for its soothing and relaxing properties.
Lavender Memory Foam
Correct ergonomic design provides the right support for the cervical spine, perfect for a more relaxed flight, ride in the car, or just lounging. Infused with real lavender, this is a popular choice, providing a calming aromatherapy for mood enhancement, better concentration and relaxation. Combine the aromatherapy with the soft Tencel mesh cover, plush memory foam and venting support and air flow properties, and you get what we feel are the best travel neck pillows available. Revitalize and ease tension with this u-shaped lavender aromatherapy pillow.
Peppermint Infused Memory Foam
Support and comfort meets natural peppermint aromatherapy. A plush, neck conforming memory foam a with real peppermint oil infusion for natural relaxation. Peppermint aids in clear, deep breathing and promotes mental clarity, plus peppermint is naturally antimicrobial. Venting technology construction improves support, comfort, and breathability. The soft and beautiful mesh cover enhances the naturally restoring properties.
How Is The Aromatherapy Scent?
The pillow is infused with natural lavender, chamomile and peppermint, it is not soaked with a fragrance, therefore; it is not like a perfume, nor is it like a sachet of fresh cut plants. The aroma is subtle, but it is there and this is the way it should be – not overwhelming. The infusion lasts a long time and becomes more noticeable the more you use the pillow. I really like this because too much fragrance is annoying. This is just enough to produce a very mild effect. So, don't expect the aromatherapy to "knock your socks off", it won't, but the pillow will. This is one of my personal favorites, and I explain why below.
Doctors Note:
I can tell you that this is the best u shaped pillow I have used. It has been very helpful for me personally. The density is soft. Yes, it is ergonomically correct, but the softness is wonderful! This is perfect for those with sensitive necks like mine; arthritis, neck strains and whiplash sufferers will really benefit from this pillow in any style. For reclining: Many recliners have a head support portion or an upper part that extends out or is filled more. This is pretty much standard design, even the real expensive ones. This can make using most u-shaped pillows frustrating. Most are too much, placing the neck in a forward position and/or producing too much pressure. These travel pillows compensate for this and allow true ergonomic positioning. The same when traveling, some headrests are set forward. You can compensate for this by reclining the backrest of the seat some, but most headrests in vehicles are firm and not so comfortable. Using a firm or overly supportive pillow can be counterproductive to healing, rest and relaxation.
Patients Note:
My recommendation comes from personal experience. It has been a couple years since my shoulder surgery. I underwent 3 procedures during the operation. I had a rotator cuff repair (subscapularis), acromioplasty on the acromioclavicular joint, and a biceps tendonesis (cut and reattached). I have 2 screws in my shoulder now. Well, if you have ever had this experience, you may know you have to sleep in a chair after the operation. While most shoulder surgeries take about 3 – 4 months to recover, the one I had takes a year! I purchased a nice recliner prior to my surgery as part of the preparation. Eight months later, I was still falling asleep in the recliner at night, waking up about 4 in the morning and then getting into bed. For the first few months, I could only sleep in the recliner.
Well, I needed a pillow that would work to support my neck. Initially, I needed a u-shaped pillow, so I looked at all the travel neck pillows and first used the orthopedic fiber based one. It was difficult at first because of the pain, and I mean PAIN. Eventually, when dealing with the pain was not the prime factor, the pillow was. I had to unzip it and keep taking out some of the fiber to get my neck comfortable. It was late summer and I was surprised how much the fiber retained heat. I tried another fiber based one and another – same problem, but the others were not zippered, so I could not take some of the fiber out.
Next I used the other memory foam one and it was way too firm. Tried a cheap store bought one and it was soft enough, but quickly fell apart and became useless. Finally, this version of travel neck pillows was perfect! I have used the lavender one ever since and was very pleased and able to get a better night's sleep. It really saved my neck. They nailed it with this one! I'm a big fan and highly recommend this pillow in any style – I like the lavender, but they are all the same great quality and feel; the charcoal infused, gel, standard or aromatherapy ones.
Well, fast forward a couple years and I now need another surgery on the same shoulder! Completely torn supraspinatus tendon. So, with surgery on the way, at least I don't have to worry about the right pillow to use. Yes, same pillow – very durable! However, to help deal with the anxiety and depression, I may use the chamomile this time. Updates to come.
Care Instructions
The special memory foam does react to temperature changes, getting softer with heat and firmer with cold, although not extreme. Your body heat will help mold, soften and shape the pillow. Do not use any form of heat other than your body temperature on the pillow to avoid damage and voiding the manufacturer 5 year warranty. If your pillow is very cold, allow it to warm up to the ambient temperature before use.
Any residual manufacturing odor is not harmful and dissipates quickly. For those who are sensitive, just air it out for 24 hours and this will speed up this process. The pillow is naturally anti-microbial and non-allergenic, without harsh chemicals associated with foam manufacturing.
Follow the included instructions with all the travel neck pillows, however, you can spot clean the pillow by hand, avoid soaking or using high suds detergent. Allow to dry away from heat or light at room temperature. A great addition to our aromatherapy memory foam sleeping pillows.