Standard Wheelchair Headrests Provide Options For Basic Support
The Standard Wheelchair Headrests use a durable, quality foam that is solid and resistant to tears. A strong and sturdy insert made of metal runs the entire length, supporting the back of the headrest. The wheelchair headrests are surrounded with a comfortable, yet tough finish that is easily cleaned using soap & water.
Buy Wheelchair Headrests & Hardware Online With Security & Privacy 24/7 – 365 Days A Year
FREE SHIPPING for Continental U.S.A. Only | Outside U.S.A. Orders - Read Shipping Policy

All Customers: Read Shipping and Return Policies Prior To Placing Any Order!
Our standard three-point mounting hardware can be used on these headrests. A variety of adapters are available
The standard wheelchair headrests attach to a 1 inch (25 mm) ball mount hardware as well as to Netti & Whitmyer Hardware using adaptors.
The Large Wheelchair Headrest above has contours providing comfort for support to the back of the head. The ends extend for better side support. The bottom extensions are rounded, permitting better vision and comfort for the ears.
Measures: 11 inches wide by 6 inches high (20 cm by 15 cm)
The Standard Combination Wheelchair Headrest above employs square end extensions, which offer increased side support. It is deeper in order to provide more stability for the head as well as a deep contour support for the back of the head and lower extensions which help avoid trapping.
Measures: 9 inches wide by 7 inches deep by 5 inches high (23 cm by 18 cm by 9 cm)
The Small Wheelchair Headrest above is minimizes support of the head, making it good for transporting. Offers comfort and support at the back of the head and optimizes space for the ears.
Measures: 9 inches wide by 3.5 inches high (23cm x 9cm)
The Small Combination Wheelchair Headrest above uses an anatomically shaped design for side support with a closer fitting support. It employs extending side supports for the neck, while offering adequate space for the ears.
Measures: 8 inches wide by 9 inches high (23 cm by 20 cm by 13 cm)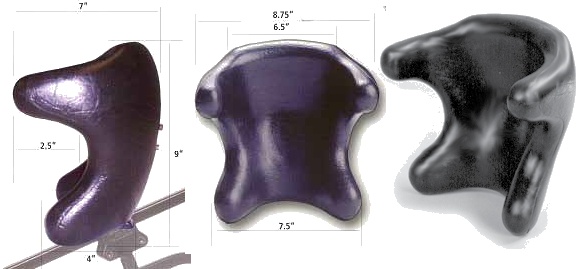 The Full Support Wheelchair Headrest above is made for total head support using higher side pad supports for the forehead area, along with low placed padding for control of rotation. Simply adjusted for a custom fit by hand.
Measures 9 inches wide by 7 inches deep by 9 inches high (23 cm by 18 cm by 10 cm)
Standard Wheelchair Headrests – Mounts & Adaptors
Offset Hardware Mount For Standard Wheelchair Headrests

The Hardware For The Headrests uses a 1 inch (25 mm) ball made of steel, which permits complete adjustments. A nice looking and strong finish coats the hardware for superior durability.

This Hardware may be utilized with standard wheelchair headrests that accept a 1 inch (25 mm) ball.

The length mesures 17 inches (43 cm)
Standard Wheelchair Headrests Whitmyer Adaptor




This whitmyer adaptor permits the headrests to fit a 3/4 inch ball (19 mm) with Whitmyer hardware mounting.
| | |
| --- | --- |
| The Netti Adaptor permits all the Standard Wheelchair Headrests to fit with a hardware for Netti mounting. There is a 6 inch long (150 mm) and a 10 inch long (250 mm) adaptor. Choose by mm size (150 or 250) | |
If you need assistance or have questions, please feel free to contact Neck Solutions.