The Smart Cervical Collar Is A Universal One Size Fits All That Is Very Supportive With Fast & Easy Height Adjustment
This well designed collar provides a high level of stability with a two piece design using Velcro fasteners and a lock-unlock mechanism for height adjusting for optimal fit. It has an integrated thoracic extension for a more stable base and pressure relieving removable pads for better distribution of pressure distribution. The smart cervical collar comes complete with an extra set of pads.
Buy A Smart Collar Online With Security & Privacy 24/7 – 365 Days A Year
FREE SHIPPING for Continental U.S.A. Only | Outside U.S.A. Orders - Read Shipping Policy

All Customers: Read Shipping and Return Policies Prior To Placing Any Order!
The smart cervical collar was developed in order to efficiently treat a wide range of neck problems from general pain to post operative care. Offering pain relief and stabilization by restriction of motion of the cervical spine, helping you achieve and maintain better posture by splinting the spine, reducing muscle movements. While not the primary function, the height adjusting ranges through 2.5 to 5.0 inches and can be used to provide axial traction to relieve pressure in the the disc space, joints, ligaments and tendons.
There is a large tracheal opening that makes it easy to to take the pulse of throat arteries and provides a passage of a tracheal section. The features of the collar are intended to increased patient comfort. A soft foam liner is washable and replaceable, with an extra set of replacemet liners included, so you can use the collar while the set of liners are being washed. This ensures long term use is always clean and comfortable.
The smart neck bracing system ensures immobilization, stabilization and stretching of the cervical spine. It is constructed of breathable and washable materials, making it pleasant to wear. It has a modern and attractive design that looks great as it functions.
Smart Cervical Spine Collar Features:
Height adjusting with 9 positions by using a unique, patented technology which ensures optimal fitting.
The collar is secured in place using two quick locks which helps to prevent patient tampering
Like a Philadelphia Collar, it is a simple 2 piece design for easy re-application and fitting
Breathable faom lining and vented design improves comfort and airflow
Extra foam liner pad set for patient hygiene is included.
Comparable to the Aspen Collar TX model with the extra upper back (thoracic) support. In my opinion is, better constructed, easier to use and comes with a free set of extra pads.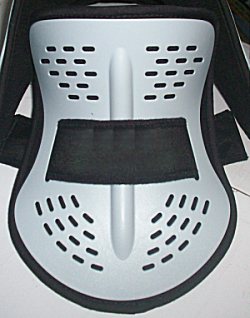 Collar Indications
Your doctor prescribes the smart collar as stabilization for: cervical injuries, cervical disc herniation, moderate to severe sprains and strains, and severe radiculopathy.
Other conditions that may benefit from the collar are: facet joint irritation, pain resulting from tears in the disc, advanced disc degeneration and conditions where firm head support is required from motorneuron disease or loss of muscular control.
In the event that you will have a surgical procedure approaching and you may require a collar intended for support or perhaps you currently have neck discomfort and therefore are seeking a product that may help you manage neck pain. Using just one size to fit all, this universal collar will fit nearly all individuals in comfort. Its distinctive style and design offers ease and comfort, as well as movement limitation necessary in order to safeguard unstable and painful neck conditions. An individual can certainly rest assured of correct sizing for the best fitting, which is important in times of injury or surgical recovery. The smart cervical collar provides secure and comfortable support, is lightweight, attractive, anatomically designed and able to be adjusted for a universal custom fit.