Side Sleeper Travel Pillow Provides Comfort And Pain Relief At Home Or When Away From Home
The side sleeper travel pillow uses the same ergonomic design and quality memory foam construction as the full size side sleeping pillow in a smaller size that is easier to use during travel.
Buy A Travel Side Sleeper Online With Security & Privacy 24/7 – 365 Days A Year
FREE SHIPPING for Continental U.S.A. Only | Outside U.S.A. Orders - Read Shipping Policy

All Customers: Read Shipping and Return Policies Prior To Placing Any Order!
The Small Size Measures 16″ x 12″ x 3″ – For 5′ 4″ and shorter | The Larger Size Measures 16″ x 12″ x 4″ – For 5′ 5″ and taller – listed as medium.
The travel size pillow features advanced memory foam and an ergonomic face and shoulder contour designed for side sleeping which helps with head, neck, and jaw (TMJ) pain. If you are using the regular size pillow, you don't have to miss it when you are traveling or staying away from home. The smaller size makes it much easier to take with you, so you don't have to deal with an inferior pillow in motels or anywhere life takes you away from home.
Now you can avoid waking up with a stiff neck when away from home with the most advanced side sleeping pillow design available. This travel version is made as a heat retaining, pressure relieving memory foam pillow which helps to reduce pressure points on the jaw and ear while increasing blood flow to the face and even reduces wrinkles.
With unique ergonomic contours for the head, face, neck and shoulders which improves comfort and airflow, this travel pillow allows for easier breathing and may even help with loud snoring. The shoulder angle provides a comfortable side sleeping position for your head and neck promoting increased blood flow to the arms.
Even when you are away from home, you can minimize pressure points often associated with poor pillows for people who prefer side sleeping. Now you can enjoy the this popular pillow in an easy to travel with size any time your away from home. The side sleeper travel pillow is a great solution for planning vacations and business trips without worrying about how your neck and shoulders will hold up.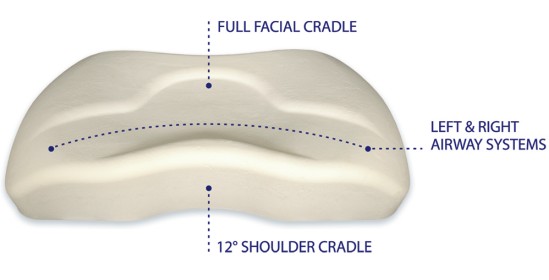 The full size side sleeping pillow uses a different measuring; so the travel version corresponds to the small and medium full size. Unfortunately, they don't make a larger size to correspond to the large in the full size, which is over 5′ 10″, but the large travel version will cover most up to about 6 foot tall.
If you have questions please feel free to contact Neck Solutions.