Our Pain Patch Uses Herbs In A Formula Designed To Provide Pain Relief And Help Speed Healing
The pain patch has multiple uses and is great for neck pain relief and as a substitute for ice. Just cut the patch to the desired shape and get hours of relief.
Easy to use, one application lasts all day to help heal and relieve pain without any gels, creams or lotions to mess with. The unique herbal formula enriched in the pain patch helps invigorate blood flow, breaks blood stagnation, relax tendons and muscles, alleviate pain and promotes healing.
The pain patch has been a favorite of mine for years. I started using them in my practice around 1993 in conjunction with a myofascial release technique used in difficult cases. I found that using the pain patch after treatment helped to reduce any residual inflammation from deep tissue work and added to the efficacy of the therapy. I soon found that many patients would stop by to pick up pain patches for use at home and to give to friends.
Available in box package with 10 pain patches of 3.9″ x 11″ each.
– Contains Natural Latex –
Uses For Herbal Pain Patch
Traditional description of applications include: Qi(energy) and blood stagnation presenting with sprains, strains, bruising, muscle pain, joint pain, soft tissue injuries and simple fractures. The pain patch is excellent for acute injuries and chronic pain flare-ups. Stimulates local circulation and metabolism, significantly reducing recovery time for trauma without open wounds. Also good for chronic lower back ache, osteoarthritis and rheumatoid arthritis. May also assist in relief of intercostal neuralgia, post-herpetic neuralgia. Combine with our Muscle and Joint Injury Pills for an effective dual action approach for fast healing and to help avoid chronic pain problems.
Also available in can package with 1 pain patches of 3.9″ x 78.7″
Cut plaster to desired size, remove transparent backing and apply to the affected area. Mobile, bony or hairy areas may need additional binding. Good for use at night when there is less movement.
| | | | | |
| --- | --- | --- | --- | --- |
| | | | | |
| Arthritis | Muscle Strains | Back Pain | Sprains | Bruises |
Herbal Pain Patch Ingredients
Active: Menthol 6% and Methyl Salicylate 10%.
Acacia Catechu resolves inflammation and stops bleeding due to external injuries. Combines with other ingredients in pain patch formula to promote healing.
Rhubarb Root resolves heat inflammation and disperses stagnant fluid by invigorating the blood.
Dandelion Herb clears heat and disperses accumulations.
Daemonorops Draconis Resin dispells blood stasis, reduces swelling and alleviates pain.
Drynaria Rhizome promotes healing of bones and ligaments for falls, fractures, contusions and sprains.
Os Draconis is fossilized bone is applied topically for chronic, nonhealing sores and ulcerations.
Gardenia Fruit clears heat, reduces swelling and removes blood stagnation.
Lonicera Japonica Flower clears heat, reduces swelling and stops pain.
Safflower invigorates blood removing blood stasis and reduces pain used for sprains.
Dipsacus Root promotes movement of blood and alleviates pain often used for traumatic injury.
Myrrha Resin invigorates blood and dispells blood stasis, reduces swelling and alleviates pain, promotes healing.
Pinus Resin disperses swelling, alleviates pain and promotes healing. Helps other herbs in pain patch to penetrate deeply, often used for arthritic conditions.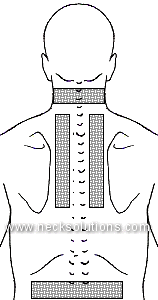 The Herbal Pain Patch is available in Box Package of 3.9 x 11 inches per sheet, 10 sheets per box or a Tin Package of a 3.9 x 78.7 inch single sheet.
– Contains Natural Latex –
FREE SHIPPING for Continental U.S.A. Only | Outside U.S.A. Orders - Read Shipping Policy

All Customers: Read Shipping and Return Policies Prior To Placing Any Order!
Cautions & Contraindications: For external use only! Contraindicated during pregnancy. Use with caution if on anti-coagulant therapy. Contraindicated for use on open wounds or with skin diseases such as eczema. May cause redness and itching and irritation in those with sensitive skin. Not suitable for children under 5 years old.
We also recommend an herbal liniment with massage as an effective herbal method to help in relief of pain.