The Neck Pillow Provides Maximum Support Relief For Pain
A popular choice among Chiropractors, the Tr-Core family of pillows are very good quality fiber based cervical pillows which cradle your neck in a natural position for back and side sleeping.
Buy Tri-Core Neck Pillows With Security & Privacy 24/7 – 365 Days A Year
FREE SHIPPING for Continental U.S.A. Only | Outside U.S.A. Orders - Read Shipping Policy

All Customers: Read Shipping and Return Policies Prior To Placing Any Order!
Tri-Core Neck Pillow Sizes
Large: 5″ x 16″ x 24″ | Mid Size: 4″ x 15″ x 22″ | Small 3″ x 12″ x 19″
Large fits standard sized pillowcases and comes with a 240 thread white blended cotton cover which is breathable and soft. Large & Mid Size in soft or firm for grown or young adults. Small Size in firm only for children. Both pillows are on the firm side. The soft is recommended unless you know you like firm pillows. The soft is a more gentle support, but it is still on the firm side; any softer and the pillow would not hold it's shape, as it is very specific in design and function
The down like feel of the neck pillow provides lasting comfort and freshness and excellent support.
Made with a high quality hypo-allergenic and antimicrobial fiber, the neck pillow fights growth of bacteria, mold, and other microorganisms. The fiber is very resilient and springs back when compressed.
By providing correct support, the cervical pillow may help with:
Neck muscle and joint strains and sprains
Tension related headaches
Whiplash trauma
Arthritic conditions
Stiffness and swelling of the hand
Temporomandibular (TMJ) disorders
Morning stiffness
Snoring in some cases
Note: If this is your first support pillow, it may take some time to adjust as it works to help restore the normal curve in the neck during sleep, so we recommend starting with the soft option. The separate areas for back and side sleeping means you should be able to consciously change positions as there are very specific areas for the 2 positions. So, if you are on medications for pain, experience sleep which does not allow you to change positions consciously, or you are a sleeper who changes positions frequently, you may want to choose a pillow that has a uniform surface. Sleeping in the wrong position on the pillow can obviously make problems worse.
Designed to help relieve neck pain with back or side sleeping in specific positions using a unique trapezoid shaped center which cradles your head to provide maximum support for mechanical neck pain.
Features Of The Neck Pillow
Features different size support contours at the top and bottom of the cervical pillow which enables you to choose the one that gives you the most support.
Raised areas designed into the pillow specifically to support side sleeping means your head and neck are always cradled with support, in side and back sleeping positions.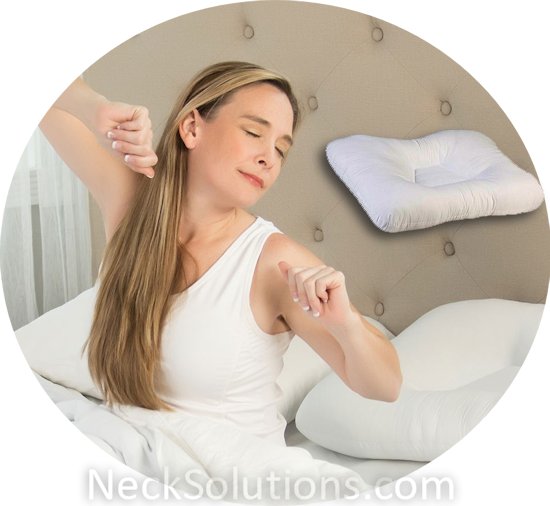 Regardless of position, the cervical pillow supports your head and neck in a natural position for more comfortable and posturally correct sleeping. It reduces nerve pressure to alleviate muscle stress and tension for pain relief. As you roll from your back to one side, it again properly supports the neck in a comfortable position on the raised section of the pillow.
In addition to relieving pain caused by many neck conditions, airway blockage, a major cause of snoring, is also addressed in the pillow's design for back sleeping.
Most experience a noticeable increase in sleeping comfort within a a day or two of using the cervical pillow, while others may require up to two weeks before the muscles adjust to their normal relaxing tone.
Recommended by professionals health care providers to help with relief of headaches, joint strains, arthritis, neck pain and more.
Are You Sleeping On The Best Pillow?
If you suffer from pain or stiffness when you wake up, have frequent headaches, or feel tingling in your arms or hands, your pillow may be the cause. Perhaps you just have trouble sleeping, switching or piling up pillows through the night. You may sleep better and wake up more refreshed with a cervical pillow that provides more support under your neck. The specially shaped center of the pillow is made to cradle your head in comfort and support your neck in the natural, neutral position when back sleeping. The raised sides help provide support when side sleeping.
The cervical pillow is made of quality fiber and has a shaped center for the head with a smaller lobe for smaller necks and larger lobe for larger necks. For side sleeping, you have the side lobes which raise to properly allow for correct shoulder positioning. A great feature is that it adds support by correcting and maintaining posture, so the neck is maintained properly throughout the night and blood circulation and nerve impulses to the rest of your body is maintained for complete and restful sleep through the night. With correct posture during the night, your health may be improved in many ways.
Neck Pillow Advanced Options
Also available with a special covering material that provides temperature control: please see the Comfort Neck Pillow. This aids in the elimination of extreme temperature changes while sleeping, helping to prevent waking up with over-heating. Delivering the high performance with the addition of special technology material interacting in balancing heat through absorption, storage and release.
For a more custom level of support, it is also available as an inflatable neck pillow.
If you need assistance or have questions about the neck pillows, please feel free to contact Neck Solutions.