Head Support Collar To Hold The Head Up For Control & Comfort
It is a soft foam collar that wraps around the neck which supports the head under the jaw and fastens secure in front on the chest. It comes with tan vinyl covered foam with soft covers. Helps to maintain an upright posture for improved positioning, feeding, swallowing, breathing, and promotes better social interaction.
Buy A Head Support Collar With Security & Privacy 24/7 – 365 Days A Year
FREE SHIPPING for Continental U.S.A. Only | Outside U.S.A. Orders - Read Shipping Policy

All Customers: Read Shipping and Return Policies Prior To Placing Any Order!
The foam is soft to permit the user to move their head easily in order to maintain function, instead of being very restrictive to the range of motion. Outcomes desired from proper head support are better body function, improved social interactions as well as better self esteem.
Sizing The Head Support Collar
It is always recommended to work with therapists or health care professionals when sizing. There are many factors to consider when using a head support collar. If a seating system is used, properly positioned seating should be addressed prior to fitting the collar.
For the "A" measurement, use a tape measure and measure around the neck (circumference), rounding off to the nearest half inch. "B" is a vertical measurement between the bottom of the earlobe and the shoulder. Round off this measurement to the nearest half inch, then subtract a half inch, which permits clearance for the ear and allows head movement.
Take into consideration anything the user needs, such as other supports or straps that may affect the measurement. If a shoulder strap is more than 1/8th inch thick, this should be subtracted from "B". If there is a measurement that falls between sizes that is enough for reasonable concern, we have size reducers that attach to the collar for either height or width.
2 Types Of Head Support Collars
The collar comes in standard/short height or a high back version that has more support for the back of the head or the occipital area. The high back uses strong but pliable reinforcing along the outside along with additional support for the back of the head.
Covers/Colors
The head support collar comes standard in blue cloth. Please note: Colors may vary slightly from picture; lighter or darker. There are options for black cloth and various colors in lycra covers. All optional covers will take extra time for delivery as they are made to order. Blue cloth is the quickest method for collar shipping. Extra or replacement covers can be odered separately. Covers are easily removed for cleaning. All head support collars will be sent with blue covers unless ordered otherwise.
Between Sizes – Size Reducers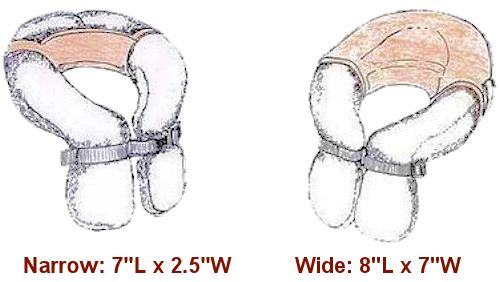 With velcro straps, the size reducers can provide a better fit. They are foam inserts coated in vinyl and attach inside the collar. The narrow size reducer is used under or over the covers. It may also be used in the front of the collar to provide a more secure closure if needed. The wide size reducer provides additional back or occipital support and the top folds around the back part of the head support.
Positioning Strap – Stabilizer
Helps with stabilization and attach directly to collar straps with rapid release buckles for attaching to wheelchair.
Head Support Collars
Head support is important for many conditions that effect muscular control, like drop head syndrome, ALS, brain injuries, cerebral palsy, spinal cord injuries, muscular dystrophy, genetic disorders, developmental delays, motor neuron diseases and other conditions involving altered muscular tone. This head support collar is very well made and designed by Danmar and is their Hensinger Collar. We have accessories available; if you don't see it here, contact us. We will have all accessories for wheelchair support soon. Head support collars provide better positioning for improved breathing, swallowing and promotes better social interaction through eye contact and alertness. Sensory development is enhanced by improved visual input.