Chiropractic Pillow Provides Therapeutic Traction And Support
The Chiropractic Pillow is versatile with four way design which provides a therapeutic edge for any size, age, or body type. Each Chiropractic pillow has a firm narrow and wide therapeutic edge and a soft and medium center giving you four support options for a variety of firmness levels in one pillow. The Chiropractic pillow also provides therapeutic traction and support for the neck.
Buy A Chiropractic Pillow With Security & Privacy 24/7 – 365 Days A Year
The Chiropractic Pillow is available in Small: (23″ x 15.5 x 2.8″/ 3.8): for children and small-framed adults under 110 pounds | Standard: (23″ x 15.5″ x 4.25″) for average adults | Large: (23″ x 15.5″ x 5″) for larger adults over 180 pounds.
The Travel Chiropractic Pillow is available in Small: (13″ x 15.5 x 2.8″/3.8) | Standard: (13″ x 15.5″ x 4.25″)
There is a break in period with the foam, it will soften. If you choose the standard size, there is a softer memory foam version.
FREE SHIPPING for Continental U.S.A. Only | Outside U.S.A. Orders - Read Shipping Policy

All Customers: Read Shipping and Return Policies Prior To Placing Any Order!
Only an evaluation by a health care professional like a Chiropractor can determine the source of your neck pain or stiffness. If there is no apparent cervical injury involved like whiplash, a fall, or a sports trauma, and if other conditions like a tumor or infection have been ruled out. Treatment should be geared towards prevention of long-term neck pain. With many issues involving acute pain as well as chronic problems from poor posture and previous injuries that have not healed properly, the Chiropractic Pillow can help as part of the solutions to achieving better health and alleviation of symptoms, especially waking with neck stiffness and/or headaches, even jaw pain.
Certain health problems that are often reported in association with abnormal postures include tension headaches, overuse syndromes, easy fatigability, decreased sports performance, and a decreased healing capacity after injury.
As a Chiropractor, I can tell you that strain on soft tissues of the cervical spine (muscles, tendons, ligaments) during sleep puts the neck at risk due to stress from poor biomechanics and improper support. Poor sleeping posture represents a form of sustained stress, which can lead to problems with the neck muscles and spinal alignment. If you sleep on your stomach or on a pillow or stack of pillows that do not support the neck properly, this can place excessive pressure on muscles and ligaments when they are most vulnerable. To prevent spinal instability, these soft tissues have to work harder all night and can be easily fatigued, irritated and inflammed by morning.
How Can The Chiropractic Pillow Help?
Before

After
Often, exercises and stretches along with Chiropractic adjustments are recommended to build up stability, help heal muscles, ligaments, and restore motion to tight, stiff joints. In addition, the Chiropractic Pillow can help protect your neck while you rest and sleep. Considering we spend about a third of our life sleeping, it is wise to make sure your sleeping posture is helping instead of hurting your neck.
Chiropractors often see results of neck injuries where patients may experience muscle spasms, neck pain, headaches, shoulder and neck pain, nausea, blurred vision, ringing in the ears, dizziness, concussion, limited neck motion, numbness, or reduced ability to hold the head erect. In these cases a comfort and support from the Chiropractic Pillow can help through the healing process and allow more comfortable rest.
Gentle Pillow Traction
To use the gentle traction feature of the Chiropractic Pillow, position the firm edge under your head and touching your shoulders. Bend your knees and push upward slightly with your feet so the back of your head sinks into the middle section. Now straighten one leg, then the other. This action will pull the neck downward creating a mild traction as the head is held gently but firmly by the therapeutic foam edge. This results in a relaxation of the neck muscles, less irritation to nerves and aids in natural neck pain relief.
Features Of The Chiropractic Pillow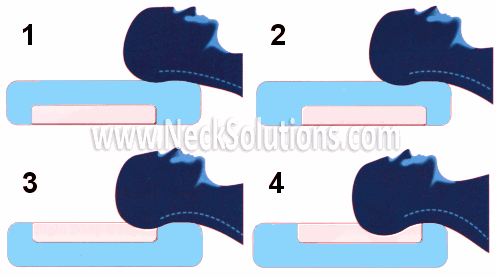 The pillow offers some unique features: The soft fiber center is both comfortable and cooling. It is very soft on the jaw for those suffering from tmj pain as well as allows air flow for those with ear problems. The foam edges and base allows multiple positioning. This can help you gradually get used to a cervical pillow and accommodate different levels of neck spasm. With spasm of the neck muscles from injury or loss of the natural curve of the cervical spine, a gradual use towards the normal ergonomic positioning may be beneficial.
Of course, many will initially find the pillow comfortable using the narrow foam edge with the soft fiber center. But, let's say you are in a lot of pain from a whiplash injury or have been using poor pillows for years and have chronic pain issues. You can start out with the bracing effect of the first position, using the wide, firm edge with the medium center. This allows for swelling and the most stabilizing effect. After a few nights, you can move to position number 2, with the narrower edge and medium center. This allows for a gradual increase in the curve after an initial period of bracing, and this position may be used for a few weeks to help achieve balance. The next step would be position number 3 with the wide firmer edge, along with the soft center. This begins the process of normalization and prepares the neck for the final stage. After a week or so, move to the last position, number 4 for the most comforting posture using the narrow edge with the soft center. This is the most plush and comforting, allowing long term rehabilitation and comfort.
A Chiropractic Family Of Pillows
As a Chiropractor, I have used these pillows for many years. They are time tested, made in the US and provide options for any patient and their condition. They are well tolerated and offer a gradual transition to better supporting pillows as well as accommodate both acute and chronic conditions, not to mention – reasonably priced and a great value.
This pillow is used under most circumstance, about 75% of patients. For those using the standard size, a nice upgrade is the memory foam version, using a more comforting responsive memory foam for the narrow and wider neck support edges. This can help with break-in time and is the pillow I used personally for many years. It is only available in the standard size with the 4.25 inch height.
Another member of this pillow family is the neck pain version, which is great for those who like to sleep on their sides. While it keeps the fiber in the center for back sleeping, the side portions use a therapeutic foam to give more support for the shoulders. So, it is a more stable pillow for side sleeping, with separate areas for both back and side sleeping. This means you must consciously change positions, something those with higher pain levels should not have a problem with. However, if you are on pain or sleeping medications that would prevent you from changing positions in a conscious manner, stick with the regular pillow or the memory foam version.
Finally, there are those who desire firm support or are of a large stature that normal pillows will just not provide the support. The last member of this family provides the greatest level of firmness as well as comes in different heights and offers a pillow with a height of 5.25 inches. This pillow uses a contour shape with a softer egg crate style topper to make using a firm pillow more comfortable.
All pillows is this family are very well made and offer a wide range of options for just about everyone. They have been used by Chiropractors for many years and we often find people who have had one for many years and need a new one and have searched for a while to find it. They are happy to know we can provide the support and comfort they have been looking for.
If you need assistance or have questions regarding the chiropractic pillow, please feel free to contact Neck Solutions.