The Best Neck Pillow Provides Four Support Options In A Quality Foam Pillow That Gives You Complete Control
Is this the best pillow for neck pain? Well, maybe. There are many pillows to choose from, but if you have never tried a pillow designed for neck support, this could be the best neck pillow to start on the road to better support and better sleep. <read more>
Buy A Best Neck Pillow With Security & Privacy 24/7 – 365 Days A Year
FREE SHIPPING for Continental U.S.A. Only | Outside U.S.A. Orders - Read Shipping Policy

All Customers: Read Shipping and Return Policies Prior To Placing Any Order!
According to one study¹, one pillow stood out from the rest as the most comfortable, and also the most likely to afford neck pain relief. Rated the "best" by both men and women, this pillow was made of soft polyurethane, with two firm supports along the edges – one side high and the other side lower. This pillow supplied an easily tolerated support for the neck, while the two different sides provided a choice of heights. The investigators concluded that the optimal neck pillow to reduce neck pain and improve night rest was a soft, not-too-high pillow with support for the proper neck posture from a choice of firmer cores and this pillow is very similar to what was found to be the best pillow for neck pain.
This is the Core Double Select and is a full size foam pillow with dimensions of 22 inches by 16 inches with neck support contour lobes of 4 inches, however, the height is affected by density and the optional foam cores provide a custom level of support for each side.
Best Pillow For Neck Pain
This is a great choice for your first cervical pillow. We call it the best neck pillow and it does relate to scientific research for a great pillow to relieve neck pain. This is due to the high quality and four different options in support. I like to have the 2 best options on either side, therefore, changing support is easy as flipping the pillow for a quick change.
What makes the core double select unique is the four different cylindrical shaped foam supports that you can place in the neck support lobes, allowing you to choose the level of support to use. Choosing according to color lets you gradually acclimate from a softer support to a more firm support. The ability to change firmness levels gets you involved in your own comfort, and will not leave you stuck with one level of firmness as seen with most pillows.
It is nice to have the option of progressing to different levels of support as your condition improves, going from a softer support for more painful conditions, to a more firm support as your condition improves or for those who need correction of the curve in the neck. All this is done with just one pillow!
The color lets you know the density (softness or firmness):
Having these options is great and it may be the best neck pillow for you, however, it is a personal decision and should not be made lightly. We do have information on choosing the best pillow for neck pain, because one pillow is not for everyone. It depends on your condition, sleeping habits and material preference. If you would like to do more research, please see our list of supportive neck pillows, and there are articles to give you information. If you are still having problems picking out the best neck pillow, feel free to contact us – we are here to help.
The Best Neck Pillow?
With the 4 option select foam pillow, you can easily place two on either side, switching sides to advance, then replacing with the other two as you gradually progress from softer support – for sensitive necks and early stages of injury recovery, to a firmer support – for rehabilitation of the natural cervical curve. This allows you to change the support level as your condition changes. Doing well with firm support and get a flare-up, no problem, just change the support to a softer density for a few nights and change as you feel better, without having to get a new pillow!
Using quality foam, the pillow is not only versatile, but durable and will last many years. All foam pillows tend to break down after a while, depending on how they are used. With this special neck pillow, you can compensate for this by adding firmer support over time to make the pillow last longer.
Comes with a thin cotton-polyester blend pillowcase which is comfortable, but we recommend using a standard pillowcase to increase comfort and pillow-life.
The best neck pillow? Well considering the price and the versatility, it just may be!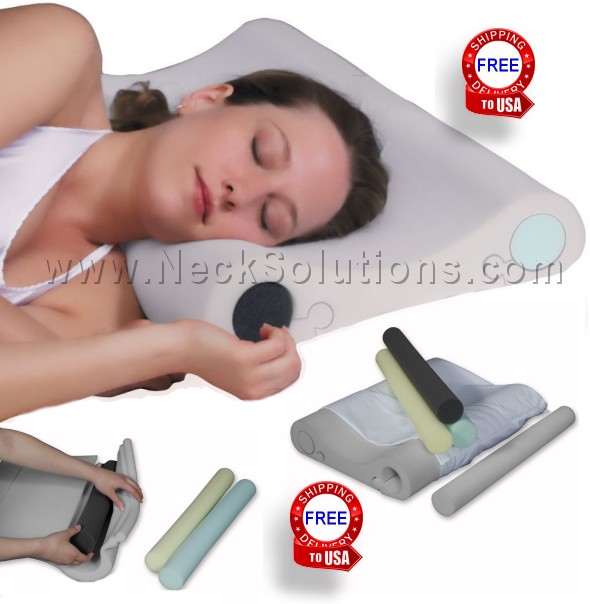 If you need assistance, please contact Neck Solutions.