Basic Wheelchair Headrest Hardware
When you are looking for a no frills mounting hardware for a wheelchair head rest, the basic wheelchair headrest hardware is all you need. Fifteen inches of vertical adjustment and your choice of four or seven inches of horizontal adjustment.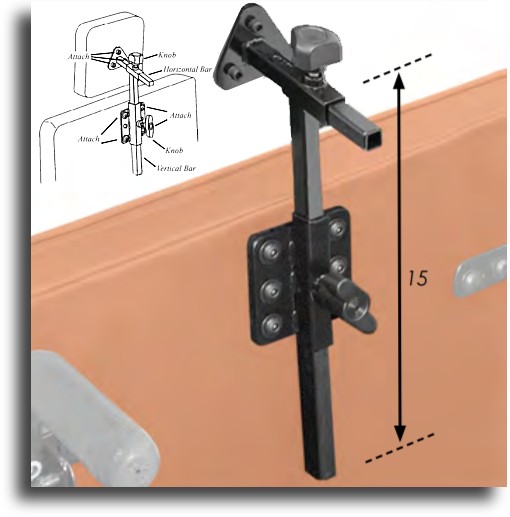 FREE SHIPPING for Continental U.S.A. Only | Outside U.S.A. Orders - Read Shipping Policy

All Customers: Read Shipping and Return Policies Prior To Placing Any Order!
Features:
Horizontal and vertical adjustment
Short horizontal bar is 4″ and long horizontal bar is 7″
Uses standard mounting bracket
Mounting Instructions
Step 1: Attach the Mounting Bracket to the chair with the 4 button head screws and washers provided. Step 2: Attach your headrest pad (not included) to the Horizontal Bar with the 3 cap screws provided. The triangular end must be positioned correctly.
Step 3: Slide the long t-shaped Vertical Bar into the Mounting Bracket. Tighten the Knob to keep it at the desired vertical position. Step 4: Slide the shorter Horizontal Bar and headrest pad into the Vertical Bar. Tighten the Knob to keep it at the desired horizontal position.
There is not much else to say! This is very well constructed, so although it is basic, you do get high quality. After installation, it is very quick and easy to adjust with two knobs and it requires no tools. Install directly to the back of any hard backed wheelchair or use one of our handlebar or cane mounting systems for soft back wheelchairs.
If you need assistance or have questions regarding the basic wheelchair headrest hardware, please feel free to contact Neck Solutions.