Back Brace That Is Lightweight & Comfortable, Yet The Strongest Mechanical Advantage Power For Serious Support
This is perhaps the finest quality and value from a back brace for those with strong bracing demands, yet need a sleek and comfortable style. The 6 to 1 pull ratio variable securing system adjusts in seconds, offering unsurpassed compression and support.
Buy A Back Pain Belt Online With Security & Privacy 24/7 – 365 Days A Year
PDAC Verified L0627 Custom Fit / L0642 OTS
FREE SHIPPING for Continental U.S.A. Only | Outside U.S.A. Orders - Read Shipping Policy

All Customers: Read Shipping and Return Policies Prior To Placing Any Order!
Forget about bulky braces, this uses a low-profile style and design that won't weigh you down. Easy application with built in panels that are padded on the inside to provide comfort and increased compression. The front and rear panels help to stabilize the brace as well. Supports L1 – S1 using an unsurpassed mechanical advantage ratio of 6:1 with low friction pulley adjustment that is simple and quick for great control and stabilization.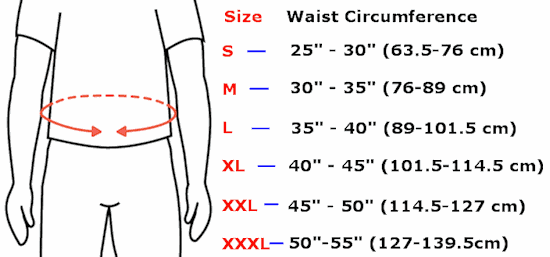 Brace Features & Benefits
Rear padded panel easily shapes as well as conforms to your shape
Six to One pulling ratio, very low friction system delivering highly effective, smooth controlled compression
Lightweight, Low-Profile mesh material great for sports like tennis or golf
Rapid, one hand adjustments to control support level for sitting or standing
Single front closure offers effortless closing and opening
Innovative front panel supplies extra light-weight abdominal support and comfort
Used for treatment before and after surgery as well as through rehabilitation
Well known for professional grade quality – built to last a lifetime
Bracing Indications
osteoporosis
lumbar disc tears and injuries
After surgery fusion procedures
Discectomy, Laminectomy, and Intradiscal Electrothermal Therapy
Professionals demand performance as well as comfort. The back brace is is great as a tennis or golf support. The golf swing uses forceful rotation with extension motions and this can cause back pain as well as decrease the power of your swing if you have a back condition. The tennis serve also uses a powerful motion with exaggeration of the back posture which can stress sensitive back joints.
Instructions
Doctors Note: This is a very good, high quality back brace and the one I personally use. It has proven more beneficial than other forms of stretch fabric type supports during heavy lifting and activities like shoveling snow. I have used this particular brace for many years and it works like new. For conditions that cause some instability to the lower back like Modic 1 degeneration, this brace provides stable and secure support to help prevent further damage and inflammation during times of mechanical stress.
In general, with lower back problems, lifting should remain under 25 pounds. For anything over this amount, a supportive brace like this is very important. This provides the support I need without being bulky or difficult to use and I highly recommend this. I like the low profile design as it can be worn discretely under most circumstances and the panels really help stabilize it and prevent migration. In general, it depends on your requirements, preference, build and diagnosis.
The high ratio mechanical advantage and panels provides simultaneous circumferential compression for the most effective means of stabilization and pain reduction applications. The mechanically driven system of compression provides a very powerful means to stabilize the lumbar spine. It has a 6 to 1 pulley ratio, which means for every pound of pull, you get 6 pounds of compression force. This provides a more secure and stabilized back brace that you can really feel. For me, it greatly improves function, allowing potential damaging activities with better safety and protection.
Not intended to be used with maternity, inadequate lung function and/or blood circulation, as well as other skeletal or conditions that could be affected by using the belt.