How To Get Rid Of Neck Pain From Sleeping
Do you tend to wake up in the morning with a sore neck? Does that crick in your neck never seem to go away? If so, you may be giving yourself a sore neck by sleeping in an uncomfortable position. Neck pain can be caused by many things, but one of the most common causes is improper sleeping habits. Use the following tips to help yourself wake up pain-free in the morning.
The two best positions for avoiding neck pain are sleeping on your side or on your back. When you sleep on your stomach, your back arches and your head turns to the side. This puts more strain on your neck, which tends to result in neck pain from sleeping. To avoid so much neck pain, try to avoid sleeping on your stomach. A specially designed body pillow with a teardrop shape can help you make the transition from stomach sleeping to side sleeping in 2 stages, and this will certainly help prevent neck pain from sleeping.
To provide more support for your neck, you need to use an orthopedically designed pillow that supports your neck's natural curve, as well as one that will maintain the head in comfort, with proper alignment for the head, neck and shoulders. A quick fix for lying on your back is to roll up a towel and place it inside the bottom of your own pillow. This can help you get by until you can choose the best pillow for neck pain. You can also get a neck roll into your pillowcase. If you sleep on your back, an orthopedic neck roll can help provide comfort and help restore the proper cure in your neck to ease neck muscle stiffness.
Typical feather pillows conform very nicely to the natural curve of your neck. However, they do not last very long and need to be replaced annually. A feather pillow with extra neck support uses a combination of down and feathers with a special neck support insert that will last for many years.
A memory foam pillow will also conform to the curve of your neck to provide better support at night so that you can avoid neck pain from sleeping. There are different types of memory foam pillows and many use a mold which produces a skin around it. While this will provide protection for the pillow and make it last longer, there are memory foam pillows that do not use this method and the foam is breathable, more accommodating for the neck, produces less heat and is made with less harmful chemicals. The PostureMed Pillow is a good example of this type of pillow that can help prevent neck pain from sleeping.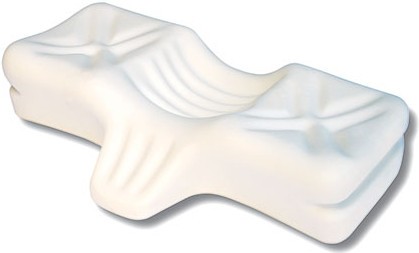 Do not sleep on multiple pillows. Doing so keeps your neck at an unnaturally high angle, which puts more strain on it. Pillows that are too stiff also strain your neck and can cause pain and discomfort in the morning, especially for sensitive necks.
People who tend to sleep on their sides should strive to make sure that their spines stay straight when they are asleep. To do so, use a pillow that provides additional support for your neck and make use of a body pillow that helps to keep your lower back from twisting at night. This way, your head and neck will be kept at the same level while you sleep.
Anything that disrupts your sleep can also contribute to neck pain. People who tend to suffer from sleep disturbances report more muscular and skeletal problems than people who regularly get a good night's sleep.
Waking up with neck pain from sleeping can make your whole day unpleasant. It is often difficult find tips for choosing the right pillow, however, you can use this information to get a more comfortable night's sleep.