A Unique And Comfortable Microbead Neck Pillow
This microbead pillow features a comfortable pillow case with side panels, a cover and has a zipper to ad or remove beads so you can adjust it for a custom fit to support your head and neck.
A 100% Cotton quilted pillow case and pillow cover provides exceptional comfort and dampens the sound of the microbeads. The pillow measures a generous 18 x 14.5 with 2 side panels of 4 inches and is great for both back and side sleeping.
A safe-lock zipper prevents the microbeads falling out of the pillow and allows easy access to customize your pillow by adding or removing the microbeads.
The little beads slide easily against each other and can be shaped and give support. The beads in the pillow work like water would. When you lay your head on it, the microbeads are displaced by the weight of your head and that weight is evenly distributed on the internal pillow case.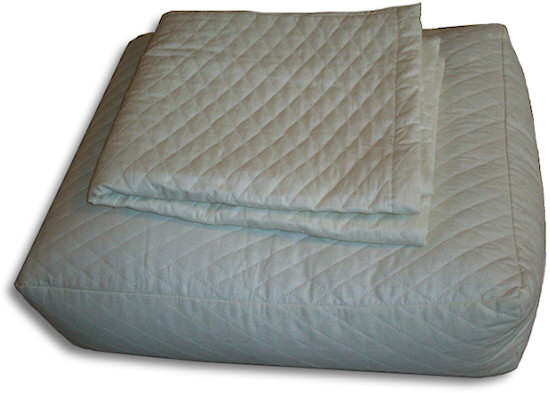 The tiny beads that are held inside the quilted cotton fabric are made to be giving, yet firm to provide support and comfort at the same time. The beads are soft, tiny and squish easily under pressure, but quickly expand to their original shape when the pressure is released. This is what creates such comfort and support so you hardly notice their shape as your rest your head on them and feel them move to firmly support your neck in optimal sleeping posture. The side panels create a three dimensional space assisting the contour of the neck and shoulders.
This pillow is made superior by use of the unique quilted pillow case and cover. This provides better comfort and sound dampening than cheaper thin covers. The shape of the pillow will adapt to your neck and head, creating a perfect cradle. Unlike pre-shaped pillows, you won't have to lie in a specific way to take advantage of its features. Another unique feature of the microbead pillow is a zipper which allows you to add or remove the beads for a truly customized fit that adapts to you as you move through the night.
Includes Pillow Case with Safe-Lock Zipper Filled with Microbeads and Pillow Cover – for Back & Side Sleeping.
FREE SHIPPING for Continental U.S.A. Only | Outside U.S.A. Orders – Read Shipping Policy

All Customers: Read Shipping and Return Policies Prior To Placing Any Order!
Fill your own pillow! The Microbead Neck Pillow Case and Cover is available without filling.

If you need assistance or have questions regarding the microbead pillow, please feel free to contact Neck Solutions.